And why does Qualcomm need some serious competition to push its Snapdragon Platform to its limits?
For the past few years, we can easily notice that any Android flagship we buy, is performance wise, years behind Apple's flagship for the year. Let us today, dive into why is this a thing and how can the Android ecosystem too be treated fairly with equally high performing SoCs that have been powering iPhones for generations.
Let us break it down and go through the history of the processor development. Apple used to source its processor from other firms (Just like how major Android OEMs source their processors from Qualcomm or MediaTek) before it all started to change in 2010. Apple launched the iPad with A4, which was the company's first in-house SoC. And slowly, by 2012, Apple shifted from licensing the ARM Design to licensing just the ARM Instruction set, making the A6 the first Apple designed SoC. Still, these processors were either equally, or less powerful than the ARM Counterparts the Android OEMs used, thus we still hear about the prevailing myth that Apple Phones are underpowered. The thing is, they were, till 2012.
In 2013, Apple came into the limelight when they released their first 64-Bit processor, the A7 chip which was used in the iPhone 5S. That processor caught everyone from Samsung to Qualcomm unawares, and in many ways, they are still struggling to catch up. Until that point, Apple and Qualcomm were both shipping the 32-Bit ARMv7 processors and Qualcomm was the one actually leading with their Snapdragon 800 platform. It used an in-house Krait 400 core along with the Adreno 330 GPU. Life was good for Qualcomm.
When Apple suddenly announced a 64-bit ARMv8 CP, taking everyone by surprise, Qualcomm had nothing equally performing. Qualcomm's executives even thought it was just a marketing gimmick, which they later obviously had to learn that it wasn't.
Fun Fact: Coincidentally, the iPhone 5s, which had the A7 chip, is still supported by Apple's latest iOS 12. That shows how far ahead the future proofing was for iPhones compared to its Android counterparts.
Qualcomm then launched the Snapdragon 810 in 2014, again a 32Bit ARM with four Cortex-A57 cores and four Cortex-A53 cores. But in that same year, Apple improved upon its 64Bit architecture and announced the A8, its second generation in-house 64-bit CPU. It finally took two years, for Qualcomm to be able to announce its first generation in-house 64-bit CPU, the Snapdragon 820 in March 2015, with its custom Kryo CPU core.
The same year, in September, Apple released its third generation of 64Bit in-house CPU, the A9 in the iPhone 6s and this suddenly made Qualcomm two generations behind Apple, which is what continues till date.
In 2016, Qualcomm's offering was from ARM again, but with a twist. The ARM had created a new licensing program which allowed its most trusted partners an early access to its latest CPU architecture and even some measure of customization. This resulted in the Kryo 280 CPU core. Spec wise, Snapdragon 835 is said to use 8 Kryo 280 cores, but it is generally accepted that it has four Cortex-A73 cores (with tweaks) plus four Cortex-A53 cores (with tweaks). For the Snapdragon 835, Qualcomm moved the announcement from spring to winter meaning the 835 was announced after the Apple A10 Fusion and the iPhone 7. But, again, as expected, it was still behind the A10, and in cases, even the A9 chips.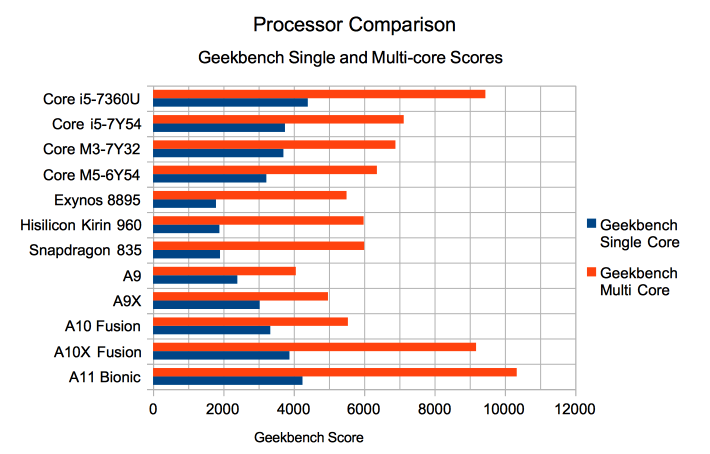 This two-year lag continues today when we compare the latest Snapdragon 845 (or even the upcoming 855) to the Apple's A12 Bionic chips which are light years ahead of their Snapdragon counterparts.
The reason for the even higher differences this year is due to two major changes in Apple's architecture. Now, with the A11 Bionic and the A12 Bionic chips, Apple can harness the power of all the Low and High-powered cores together at once, which Snapdragon or any other counterparts haven't been able to reproduce. Apart from that, Apple shifted to the 7nm architecture with the A12 Bionic, which thus gave it a huge edge compared to the Snapdragon 845.
Now comes the question, what can help the performance of the Android Smartphones boost as a whole? And for that, let us jump into a similar race in the PC world.
Intel has always had a monopoly in the market when it comes to processors in the Desktops and Laptops sold worldwide. But that monopoly led to Intel slacking off in its developmental processes and thus, in early 2017, AMD broke Intel's stage by bringing in the Ryzen platform and the Threadripper platform. I won't go deep into its technical details, but that's what made Intel to actually get up and start working on their side of this, which led us to see the new 8th Generation processors which basically were miles ahead of their own 7th Generation chips.
And that's what Snapdragon needs right now, another competitor in the Android OEM SoC's space which would have the capability to break Qualcomm's monopoly in the business today with its higher performance, and that in turn could be the most helpful thing for the masses.
The only two manufacturers that could do this today, would be HiSilicon (Huawei's Kirin processors) or Exynos (Samsung's processors), and if these manufacturers open up their processors today to be licensed to other Android OEMs, Snapdragon would have to work even harder just to boost ahead of this bubbling competition to suppress it, which would lead to faster processors for us, the masses, and may even have the potential to compete toe to toe with Apple's processor, thus giving both the sides a good bump in Research and development.
This has been my interpretation, I'd love to know what you all think about the same. Please comment below your views in the same. Would love to see a healthy debate swarm up in the comment section.